Love, Belonging and Ancestry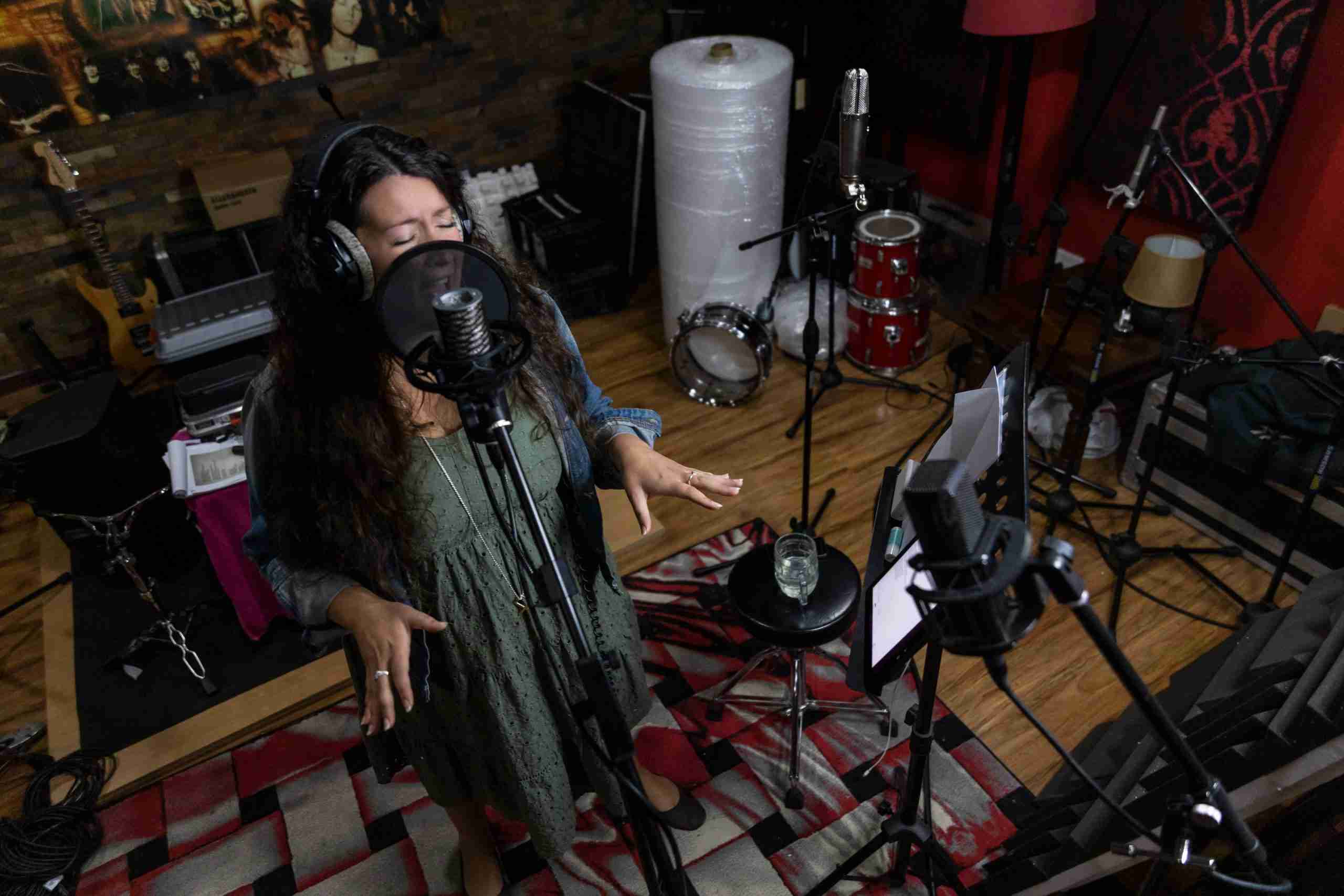 Healer, plant-based living ambassador and soulful songstress
Alani, Odyssey Magazine got to know you as healer, plantaliscious vegan foodie and plant-based living ambassador … then in 2020 you released a soulful soft rock single Grey, Grey Love. Here we are, almost midway through 2022, catching up with you as you are about to release your first album 'Chasing the Moon'.
Q. Tell us about Alani, the person, who is she really?
Through years of searching to belong, I found myself having moved over 40 times by the age of 35. I just could not find where I fitted in; I wanted to be part of something where everyone seemed happy. But every time I almost settled, something pushed me to get up and go. I do not regret the moving, or the relationships and broken hearts. I also do not regret every endeavour I tried jumping into, because look where it got me!
Q. What drew you into music and what or who influenced you to be a singer-songwriter?
I remember from a very young age, maybe four years old, I used to walk around with a comb in my hand, using it as a microphone to sing anything I could. I also recall dressing up with plastic bangles and ponytails imitating Madonna, with my sister and neighbours as back-up singers and dancers.
My parents both love music very much; we grew up with a rock 'n roller mother who sported hair like David Bowie, paired with a beach boy dad who loved Rodriguez and the Commodores. They gave us free rein to listen to whatever made us happy.
It was inevitable that music would bite this Virgo possibly from before birth; I always say that it's in my DNA.
Q. When did you first realise that there was a musician hidden within?
When I was 16 years old, I had a very keen interest in poetry, prose and music. I often wrote poetry which I entered into competitions, sometimes won awards and got published. But it wasn't until I was 19 years old, when I decided to put guitar to one of my poems, that I realised that I really wanted to be a singer. It just worked from the get-go!
Q. Talk to us about your creative process and what you draw from for inspiration and what is your primary inspiration?
I draw my primary inspiration from what I experience in my life, observing myself, my past, the people I know and meet, as well as a long-lost love.
Over the years I have been dabbling in a few things to try and match it up with my soul's yearning to belong and find meaning and, while I believe we have many talents and gifts in this life, music is my number one passion that fills my heart to the brim. It's in everything I do and seems to find me every time I abandon it because of self-doubt and the constant search to belong.
Between 2009 and 2014 I had been quite back and forth with my music and decided to give it up, when I met Nancy King, a Nashville songwriter from North Carolina. We met online to work on a music project together and immediately hit it off.
When writing a song, it usually stems from a conversation we have and starts off as a poem that Nancy would write. I then create a melody on guitar and record a rough song from the poem. We then head to the studio and our producer, Mark Beling, creates the official music before I record vocals. It's like a recipe for a rich chocolate cake; Mark is the chocolate ganache!
Q. What is the link between your music and your soul journey?
Nancy is the reason I have continued to pursue my music career with gumption, and she gave me a wonderful gift, we call it the Red String!
The Red String is the bloodline that links us through the ages. Spiritually we know it's there. We feel the connection to our ancestors. But let me tell you, when Nancy did my family tree as a gift, it opened my heart, my eyes and my past!
My family tree showed me just how far back the red string goes, carrying with it my habits, passions and interests that didn't happen by accident. With ancestry from England, Netherlands, Germany and even Finland, I jumped deep into research about who I am.
There is rich history in my family; there's much to learn and much to write about.
And, to strengthen the bond between Nancy and me, we found out that we are related!
Q. Why do you feel so passionately about your ancestry?
Delving so deep into my ancestry, from many angles, has taught me not to feel ashamed of my heritage and beliefs, but to embrace myself wholly. My life has rich history. I have learned that my passion for herbalism came from my third great-grandad, a famous botanist from Germany, my love for music and poetry from my mom's dad… and the list goes on.
What I am mostly passionate about is, before anything you can hear, see or touch, spiritually my life has opened to the old ways: Myths, legends, beliefs and prayers. Sacrifices, offerings, passion and a very long line of love between man and woman made it possible for me to exist today. My ancestors fought bravely, survived so much to be able to keep our bloodline strong.
During the days when I first began searching for meaning or where I belong, I came to learn how, as a healer, I walk closely with my parents and siblings as well as their children daily. When one of them is in danger or feels downcast, I feel it and immediately reach out energetically to help protect them. Most of the time they do not know it, but I'm there with them. I have a series of incredible stories that I'd love to share with anyone who is interested in this topic.
Having the Red String knowledge has truly connected me with my people and knitted us closer spiritually. I am still learning so much about my heritage, but I am no longer searching to belong. The stars aligned and I found my people.
Q. You sing of love, how does love influence your music?
Love to me has always been about hope. In my heart I keep the gratitude for love shining in the hopes it will find me and take my breath away.
I've been in love with a man for so long that perhaps he's been my muse and this very thing is what keeps me writing from experience, longing and hoping. At some point I will let him go and I hope my relationship with my people will have become stronger so it can carry me for the rest of my musical journey.
Q. You live a conscious life and you have a deep spiritual connectedness, does your music enhance your life or does your life enhance your music?
My music enhances my life. But it's because of my life that my music keeps improving. The older I get, the more aware and present I become, thereby creating from authenticity as an observer of my life. I write songs to give myself advice. I'll ask myself a question or tell myself what is actually going on… and in response to that, I write a song.
One cannot create something pure and lasting from a place with no substance. Age brings with it many rewards, one being self-awareness. What a beautiful gift: At the same time as being aware of the spiritual connectedness that we all have, we also become aware of the fragility we all encompass and it's this very thing that makes us more empathetic and compassionate towards others.
Thank the gods for compassion, as this is helping me mend brokenness in my family. What a beautiful gift!
Q. Which famous musicians do you admire?
Faroese singer, Eivør Pálsdóttir – I love the beauty she brings to music.
Einar Selvik from the band Wardruna – I love the spirituality he adds to his music along with the old ways and myths.
Stevie Nicks of Fleetwood Mac.
Q. If you could collaborate with any artist, who would it be?
Eivør, for sure! But I'd love to do a traditional song with her to tie in the old ways through music and poetry.
Q. Why has it taken you so long to release an album and what are your plans going forward?
Over the years I spent more time doubting myself and cancelling gigs than actually writing or putting effort into creating an album. Now that I am working with a professional producer, it is so much easier to be confident in my abilities and passions; Mark is very encouraging and the microphones he records with capture your true voice – you cannot hide from it, but it truly is motivating to hear the clarity of your voice with a professional's feedback and input.
I've never had that before and I thank Nancy for reviving my love for music and believing in me when we first started working with Mark, on Grey Grey Love.
Once 'Chasing the Moon' is out, I will shoot a couple of music videos with Luther van der Walt of Yellow Lemon Media (he shot Grey Grey Love).
I'm looking at getting back on stage, perhaps a small tour to the USA and England.
Q. Would you like to share anything else about yourself or your music with our readers?
Yes! My album; Chasing the Moon, includes songs about love, belonging and ancestry. It is a very personal album but I know there will be many people who will relate to the lyrics. I write from the heart and I hope listeners will take the time to listen to the lyrics and find comfort in them.
Q. In closing, what is one message that you would like to instil in listeners through your music?
I'd like to share this chorus from my song 'Wanderer'
"Gotta take some risks sometimes, gotta make the best of your life feel the joy of being alive in this moment, in this time find the real meaning in the circle of life, whatever that means to you Find your peace, find your place, find yourself and be that."
Q. And finally how do our Odyssey readers get access to this album?.
Chasing the Moon will be available for purchase and streaming on all online platforms in winter 2022.
Follow Alani on social media, as well as iTunes and Spotify. Visit www.alanikeiser.com for more information.
Inspired by life and personal experiences, South African singer-songwriter, Alani Keiser sings about love, belonging and ancestry. Currently working on her first album with producer Mark Beling, Alani is also working on single tracks with NSAI songwriter, Nancy King.