NO MUD, NO LOTUS – HELLO VIETNAM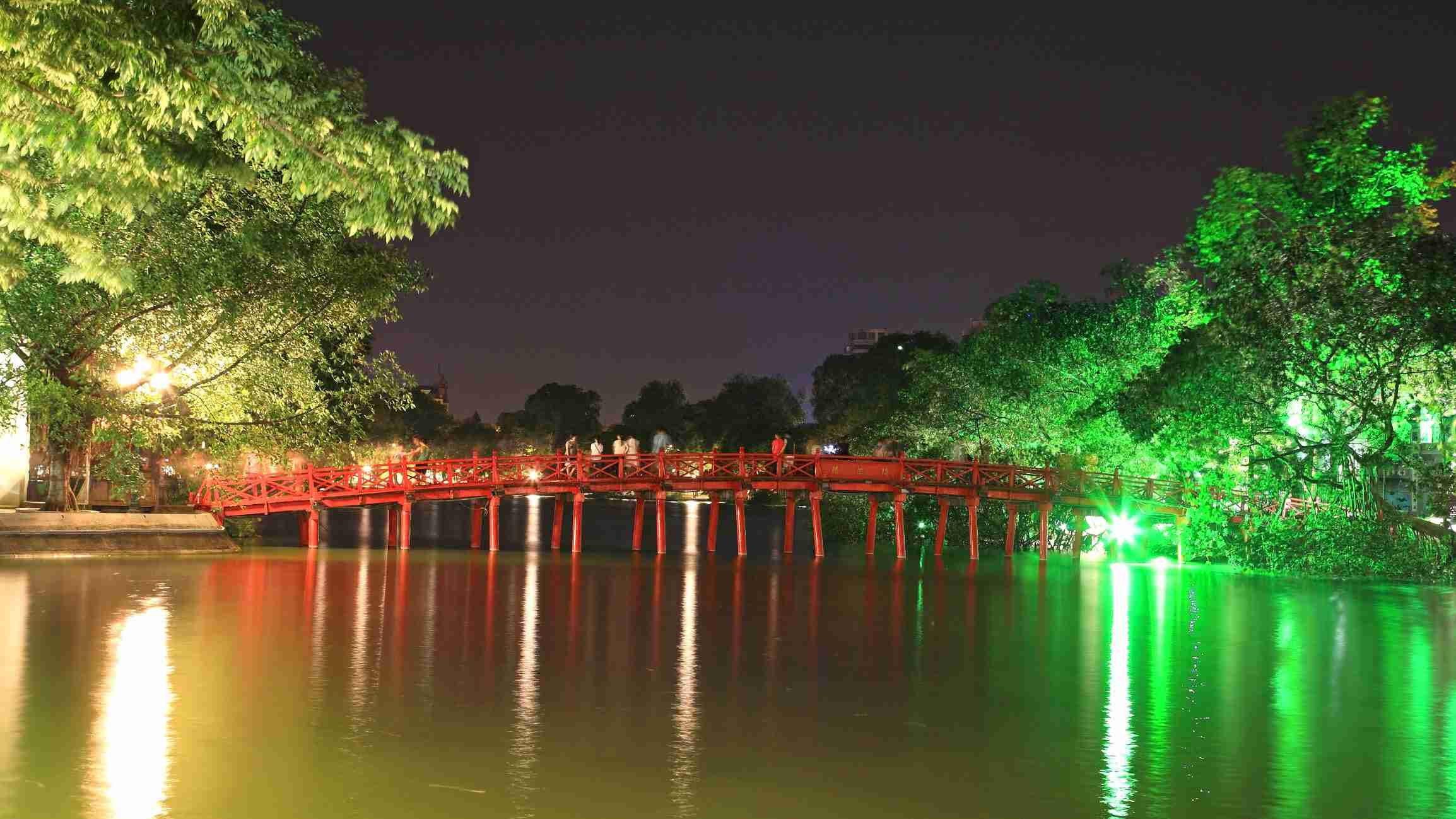 I stood patiently on the stone steps leading up to The One Pillar Pagoda, Hanoi, capital city of Vietnam, as two young women solemnly climbed the steps to lay their offerings of fruit and flowers at the feet of the goddess of mercy and fertility.

Built during 1028-1054, this tiny shrine is home to Quan Am (Guanyin in Chinese and Kanon in Japanese.) An exquisite wooden temple with eight wooden beams that interlock perfectly, symbolic of a lotus flower. It's firmly mounted on a single stone pillar, rising out of a muddy lotus pond. The lotus flowers fill the air with their fragrance. They are flawlessly beautiful in spite of the fact that they're rooted in smelly mud and have pushed their way through the muddy water to bloom above. I'm reminded of the words of Thich Nhat Hanh: "No Mud, No Lotus."  .

We wandered aimlessly down the colourful streets of Hanoi smiling yet shaking our heads at the street-food vendors who offered us tastes of their wares. We sipped delicious coffee and marvelled at the good-natured crowds that thronged the streets as they dodged hundreds of motorbikes.  Eventually the deafening incessant hooting drove us deep into the Old French Quarter, an UNESCO World Heritage Site.

Still uncertain of Vietnamese street-food we headed for a glass-fronted restaurant…besides, it was a sweltering 40 degrees and the air-con was beckoning. Fresh, not fried, translucent rice paper spring rolls, filled with finely chopped vegetables, coriander, with a tang of chilli and garlic, were served with a peanut dipping sauce, followed by a papaya salad called Nom du du. Finely shredded green papaya, herbs and salad leaves are tossed in honey and rice vinegar, then sprinkled with crushed roasted peanuts. It was light, refreshing and a delight to our western palates.

The next thing to try was a rickshaw known as a 'cyclo', a bicycle with a large metal scoop attached to the front that is pedalled furiously by a very athletic man. Within a few moments my Mr Cyclo lost sight of my party and hurtled down narrow alley ways, where the exhaust fumes choked and the muddy puddles splashed.

Buoyed up by our exhilarating cyclo experiences, we now felt ready for 'street-food', for what other dangers could we face?  So we squatted on the pavement on low stools and pointed to the ingredients that we wanted on our baguettes known as a Banh mi (beng mee); the choices were vast. These delicious baguettes, a relic from French colonialism, were washed down with the preservative-free local beer.

In the centre of Hanoi is a 12-hectare fresh water lake, Hoan Kiem Lake, or 'Lake of the Returned Sword'. In 1428 Emperor Le Loi was boating on the lake when Kim Qui, the golden turtle god, surfaced and asked for the return of his sword, a magical sword named 'Heaven's Will' that he had loaned to the emperor to help him defeat the Chinese.

Emperor Le Loi returned the sword and then honoured the god by building The Golden Turtle Tower on an island in the middle of the lake,

A smaller island in 'The Lake of the Returned Sword' is Jade Island, which houses a beautiful shrine, built in 1864, to honour Tran Hung Dao, a noble Vietnamese military commander who twice defeated Kublai Khan's marauding Mongols – Vietnam must be so tired of invaders!!

A bright red wooden bridge is arched like a rainbow and connects the island shrine to the shore. This is The Huc Bridge or 'The Place where the Light of the Morning Sun Rests'.

Today my soul is in desperate need of the serenity of a temple so we make our way to The Temple of Literature founded in AD 1070 and dedicated to the revered philosopher Confucius (551 BC- 479 BC). This was Vietnam's first university. Before AD 1442 only members of the royal family or nobility were permitted to attend this prestigious academy, but later gifted students from all over Vietnam were welcomed to enrol here.

Besides dragons, unicorns and phoenixes, turtles and tortoises are also revered by Vietnamese culture. Their shells represent heaven and earth – the oval of heaven and underbelly, the earth. They also symbolise endurance and longevity…'may you be remembered for a 1 000 years.'  There are 82 large stelae standing on the backs of enormous stone tortoises, where the names of the students, their places of birth and their academic achievements are recorded.

I settled peacefully besides a large square pond filled with emerald green water. It's 'The Well of Heavenly Clarity' and I watched the monks reverently passing in and out of the gates together with hordes of respectful tourists.

Five centuries before Christ, Confucius said: "Do not impose on others what you do not wish for yourself." Watching the placid monks I remember the words of Thich Nhat Hanh: "Compassion is a verb."

Ha Long Bay is a UNESCO World Heritage Site about 160 kms from Hanoi. Now dragons fly through the sky, breathe fire, romp on the clouds and slumber underground, but this one frolics in the water as the humps of his back rise up as 1 600 limestone islands out of an emerald ocean, forming a maze of channels and caves. This is the 'Land of the Descending Dragon' where many moons ago, this dragon descended from the sky to help the locals fight off invaders.
Fifty-five steep steps through a leafy jungle led to The Thien Canh Son Caves and 55 slippery steps descended into the caves.  The caves glinted with diamonds as iridescent stalactites hung from the roof and tranquil pools reflected the shimmering stalagmites rising up from the ground.
Exploring Hoi An is like stepping back in time, as we wandered down the exquisite Old French Quarter, an UNESCO site where the coffee and baguettes could rival Paris. The soft light of thousands of silk lanterns beckoned us down alleyways where vendors gestured to their large bowls brimming with live fish, crabs, clams, lobsters and squid.  Tables of fresh fruit, vegetables, baguettes and meat are laid out in spotlessly clean surroundings.
Vietnamese food is delicious. It's unpretentious with a riot of flavours, textures and aromas. Ingredients are bought daily from the market and tossed with lemongrass, lime juice or mild chillies in a hot wok, so the food is quickly prepared and served. Dishes of fish, clams, squid, pork, chicken or vegetables are all served at once, accompanied by rice and noodles, all to be shared by the entire table, unlike western etiquette where each course is served separately and ordered by each individual.
The city of Da Nang is 40kms from Hoi An and is halfway between the capital Hanoi and Ho Chi Minh City (formerly Saigon). The Ba Na Hills were beckoning, so we boarded the cable car and watched in fascination and trepidation as it swung out over the dense jungle, deep gorges and waterfalls, while it climbed steadily to the top of the mountain, where Little Europe greeted us at the top. The Moulin Rouge, Notre Dame Cathedral complete with gargoyles, patisseries on cobbled streets, griffins and dragons. Fairies danced in Le Jardin amidst the most incredible peacock flower display. And, towering through the clouds, a 27-metre tall Buddha was seated in front of the Linh Ung Pagoda.
A ferocious dragon was guarding the temple and I had no idea what the sign said, but the Buddha's flag was fluttering and that means peace, wisdom, purity and dignity – no discrimination – all welcome, so I slipped off my shoes and lined them up neatly before respectfully entering the temple.  Lining up one's shoes is not about tidiness or finding them quickly, it's about the next step you'll be taking when leaving the temple to where you are going with your life.
The Power of the Mind has been well documented.  Our minds are where all our greatest joys or our greatest sufferings start, or can end. I tried to empty my mind as per Thich Nhat Hanh's teachings – to be mindful of the present moment and not to think about the past, or the future, just to be aware of my breathing. Before leaving the temple I gave thanks.
At the cable station Ba Na Hills a curved Golden Bridge is the walkway forms part of an upgraded route between two cable-car stations.  Here Giant hands reach out of the rock face lifting the 150-metre long, five-metre wide Golden Bridge up into the sky, 1 500 metres above sea level. It's as if 'God's hands were pulling a skein of golden silk' out of the dense jungle below.  As we strolled along the bridge the mist wafted over us like an angel's breath. There's a dragon that lives under the Asian Continent and its heart is here in Da Nang under the River Han. The Dragon Bridge with its enormous head and sleepy heart-shaped eyes spans the River Han. It's 666 metres long, 37 metres wide with six traffic lanes and humps that undulate across the river.
But at weekends the traffic is halted and everyone strolls across the bridge waiting in anticipation for the dragon to wake up. At exactly 9pm the dragon roars and then belches fire just like a real dragon!      
The mighty Mekong River, the rice-bowl of Asia, begins with a gentle meander in the snow-capped mountains of Tibet and then gathers fury for 4 350 km as it flows through China, Myanmar (Burma) Laos, Thailand (Siam) Cambodia (Kampuchea) and Vietnam.  We pass rice paddies with people in traditional dress and conical hats, ploughing their paddies with water buffaloes.
Floating markets are a daily way of life here, not just a tourist attraction. The boats swarm over the water loaded with a colourful array of goods. Long poles stand above the vendor with a sample of their wares attached to the pole so that one can see well in advance what goods are on offer: Fruit, vegetables, coffee, clothes, plastic goods, bread, hot meals, pho (soup).  With amazing accuracy the boats pull up alongside each other to trade goods.
Unused to the rocking sampan, we cautiously disembarked onto a floating dock and traipsed through a quaint garden with a pond, where ducklings were huddled together on a lily pad. A salad of delicious local fruits was placed before us, together with coconut candies and honey. While I recognised many of the tropical fruits, I had my first taste of dragon fruit.
It is our last day in Saigon. Now Ho Chi Minh City and the Jade Emperor Pagoda is our last temple. Built in 1909 in honour of the supreme Taoist god (the Jade Emperor or King of Heaven, Ngoc Hoang), this is one of the most atmospheric temples in Ho Chi Minh City. A sign says that this is a multi-faith temple for, 'The light of Buddha shines on all'.
The Old Saigon Post Office looks like a Victorian train station except for a very prominent portrait of the late Ho Chi Minh with his inscrutable smile and wispy beard.
The outer façade has mellowed to a soft gold with green shutters and the large clock appears to be the meeting and selfie point. Built in 1886-1891 it's a beautifully preserved building of a bygone colonial splendour but inside the vast vaulted ceiling it's a working post office where one can make a phone call in an old fashioned phone booth and buy postcards to mail in the good old way before emails and mobile phones.
Green metal beams support the towering roof and the walls still have the original paintings of huge maps showing the telegraphic lines and postal routes of 1892. 
A dainty dark-haired child approached me and asked if I was English. She explained that she was 10 years old and that her father brought her to the Post Office every Sunday so that she could practise her English on the foreigners. 
An enchanting child who asked lots of questions like," Where am I from? What's my name?" She hopped up and down excitedly and told me that her name is also 'Linh' and that it means 'soul spirit in Vietnamese. "You don't look African," she said. Linh asked me about my children so I told her about our grandchildren. This petite, raven-haired little girl is indeed a 'soul spirit in this fascinating country whose people have risen above its tragic past to its present mindfulness.


In Thich Nhat Hanh's words: "Let us enjoy breathing together."