ReikiKids – Healing our Future!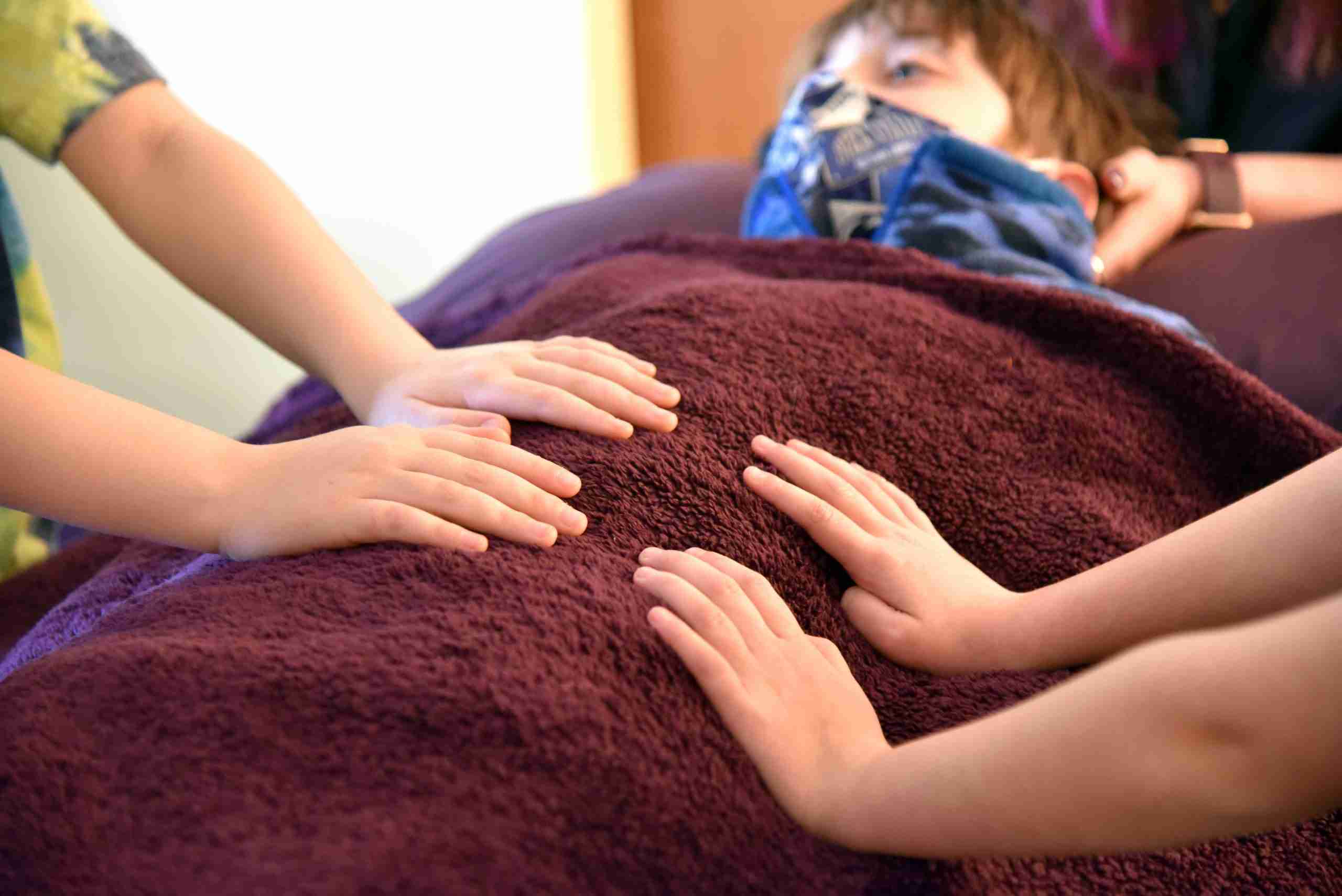 "Reiki is like the warmth of the rays of the sun and the key to opening all the love in your heart." Rickie Meryl Freedman
This quote is how I begin every ReikiKids Class. I have one child draw a big sunshine with the rays of the sun and another draw the key to a door on the easel board. Ray-Key! An easy way to help them remember the name and grasp the concept of Reiki.
My journey with ReikiKids began with my own children. I started learning Reiki when they were eight years old. I shared Reiki with each of them as I settled them into bed. Ron loved it when I blended in Reiki as I rubbed his back. Ryan, my sensitive child, could feel it when I added the intention of Reiki and he knew it would put him to sleep. Whenever he was hurting, he would say "Mommy, put your hands right here and DON'T MOVE!"
When Ryan was 20 years old, he transitioned to Spirit. The first time I walked back into the healing room of my Reiki practice I was still deeply grieving. The Reiki Healing Principles came to me and literally spoke to me asking: "Are these just words, or are you really going to choose to live by this now?" This was my 'Choice Point' to step forward as a Healing Presence for others. Ryan has continued to inspire me as my heavenly helper, including giving me the title to a workshop I offer 'From Grief to Gratitude'. While on a trip to the healing, powerful red rocks of Sedona, Arizona, he inspired my 'Reiki Rickie Shares ReikiKids' Coloring/Activity book and the corresponding virtual workshop 'Teaching Kids Reiki the "ReikiKids" Way ~ For Parents, Reiki Practitioners and Teachers'.
Many kids today are sensitive, empathic and intuitive. They feel the stresses of their families and the world situation. Like sensitive adults, our kids have the tendency to take it on their own little shoulders. Reiki becomes an 'Energy Management System'. It helps children (of all ages) learn to stay heart-centred and connected, but never have to take on other people's energy, or give away or become drained of their own energy. Children can learn through daily practice how to fill themselves up with self-Reiki, how to connect to the source of the energy through breath work and meditation, how to build and radiate their light and how to stay grounded. Reiki is a way to be in the world, conscious of the energy we share with our presence, words, thoughts, attitudes and emotions.
Connecting with the Reiki energy comes very easily and naturally to children, who haven't yet developed the filters and resistances that many adults have through their life experiences and messages they've received. Kids can find and feel their own energy, each other's energy and the energy of the group. They can feel empowered by sharing love and healing intentions, even with those who aren't physically present, by using a stuffed animal or doll as a surrogate.
I have created a very simple song with movements that expresses the Reiki Healing Principles in a child-friendly way. The children enjoy putting on a 'concert' for all the parents at the end of the class. These principles are about LIVING Reiki – being mindful, peaceful, compassionate, grateful and staying in integrity by being their true selves in the world! Imagine if we had all learned this as children. Imagine the potential future of the world with kids growing up knowing that we are all connected!
The children also learn how to share Reiki with their pets, plants and crystals. At the end of the class, I give each child a packet of seeds. Their instruction is to divide the seeds and plant them in two different spots. Half the seeds get only water and sunlight, the other half also gets Reiki. Then they compare the growth and health of the plants.
Sharing a ReikiKids class differs from teaching adults, although the children learn everything the adults do, but in a child-friendly version and language. Children need lots of patience, movement and frequent breaks. They often have wandering questions and conversations. We incorporate sound, art and songs. It's all vibration!
My ReikiKids vary in age from five to 13 years old. I allow five or six hours including lunch, healthy snacks, and breaks. The 'Reiki Rickie Shares ReikiKids' colouring books make it very easy for any teacher to follow along page by page and the children enjoy the colouring and activities. Having busy hands often helps their attention and retention. I always have a parent helper who can stay with the kids while I share their attunements one by one. They take this very seriously and sharing the Reiki into their precious little hands is priceless. At the end of the class, the children draw what their energy looks and feels like to them. These drawings are so amazing, showing the colours, the energy centres, their aura, angels and even Mikao Usui! The children receive their own Reiki Certificates which say "CONGRATULATIONS! You are a ReikiKid! Let your Love and Light SHINE!"
My heart-felt Intention creating the ReikiKids programme is to allow other Reiki teachers to be able to develop their own programmes. I envision this worldwide in schools, daycare centres and libraries. I love the idea of Reiki families doing their self-healing together and sharing more love and peace in our world. My hope is to bring the Reiki experience of inner peace to as many people as possible in every walk of life.
Here's what a few of my ReikiKids kids have had to say:
"I love Reiki because it helps me connect with animals. It also helps me calm. I use it every day to connect with my dog. Reiki Rickie's class helped me connect with my inner self."
"I had Reiki when I was a baby. Then I used to come with my mom. It made me feel very relaxed. I love it. My mom gives me Reiki when I get hurt or I am sick! Reiki feels like love."
"What I liked best about Reiki was when I got to share with other people and when Miss Rickie told us the story of Reiki."
"Reiki is a really good thing, and my first time was so fun. I like it because it really calms me down, and when I'm upset, it makes me happy."
And from a Mom – "My daughter came home with so much excitement and passion about what she learned. She explained all about energy, Reiki healing and was so excited to share Reiki with us last night. She had such an amazing time and is so excited to learn more. She said she still felt so calm and relaxed after your class. It was wonderful to see her so eager to tell us everything she learned and to share Reiki with the whole family."
Rickie Freedman is an international Reiki Master/Teacher, mentor, speaker, Certified Holistic Wellness Coach and author. She created 'Reiki by Rickie—ReikiSpace and Learning Place' in 2008 in Harrisburg, PA, USA.
Connect with Rickie Freedman should you wish to bring her programmes to South Africa. Or purchase her child-friendly Reiki coloring and activity book which is just like a ReikiKids Class!
https://www.amazon.com/Reiki-Rickie-shares-ReikiKids-Freedman/dp/0578689626/ 
Contact Rickie at Rickie@ReikiByRickie.com 
ReikiByRickie.com/products/reikikids/ Reiki Rickie Shares ReikiKids is available on Amazon.